Hongrun Instruments Application to Shenzhou Manned
With the products acclaimed as "high control precision, reliable technology, stable operation…", the senior engineers of R&D Department in Hongrun were radiant with joy, holding the certificate issued by China Aerospace Science and Technology Corporation (CASC). In 2008, Hongrun instruments were applied to Shenzhou Manned Spaceship and Chang'e Lunar Probe Project since CASC thought highly of Hongrun products for its high control precision, strong anti-interference and stable performance. With Hongrun instruments successfully applied to the aforesaid two projects, Hongrun has become one of the few suppliers to provide instruments for frontier China aerospace science and technology.
CASC lays strict requirements for selection of product suppliers. Prior to the acceptance, Hongrun had submitted audit materials to CASC in terms of main qualifications, financial status, technical levels, production processes, raw material testing and quality inspection of finished products. After a series of complicated procedures and by means of its advanced technology, comprehensive Quality Management System, sophisticated equipment and excellent product quality, Hongrun successfully passed the verification and acquired the qualifications to provide instruments for Shenzhou Manned Spaceship and Chang'e Lunar Probe Project.
It is Hongrun' accumulation and rapid development in product R&D and management capability for years that results in the application of Hongrun instruments to the aerospace, marking that Hongrun instruments' service is marching to a wider range of hi-tech areas.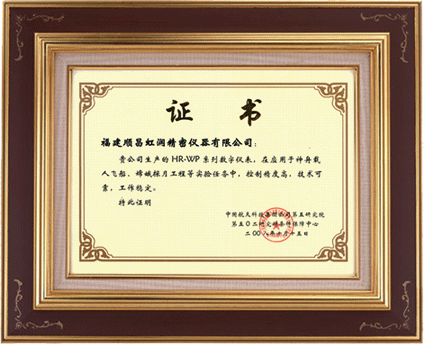 Hongrun was granted the qualification certificate of "Qualified Supplier of Nuclear Power System", demonstrating that Hong Run has successfully entered into the nuclear power field.
Under the background of the quite strict appraisal of "Qualified Supplier of Nuclear Power System", Hong Run, by virtue of its brand superiority, high-powered products, standard management and great assets, won the election and became one of minority enterprises that be entitled to access nuclear power network. To become a qualified supplier of the nuclear power system raises the reputation of Hong Run brand, and also enhances the market competitiveness of Hong Run instruments.
Hongrun's successful entry into the nuclear power field helps to push the instrument domestication forward, plays a great role in the company's sustainable development, and further promotes the corporate images. Hong Run will grasp this opportunity to further make innovations, extends the use of Hong Run instruments to the most advanced high-tech area, in order to speed up the internationalization of Hong Run.